‹ Back | Hotels, Accommodations Near Florida Ports | Tampa Cruise Schedule
Carnival Legend Cruise Ship: Tampa, Florida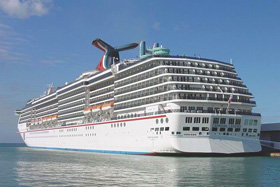 The 2,124-passenger Carnival Legend resumed Caribbean service from Tampa, with a variety of enhancements from a recent upgrade that includes a renovated children's pool area, and the addition of Serenity, an exclusive adults-only retreat.
Carnival Legend which leaving Tampa every week is the third ship in the Spirit class, with some significant firsts for Carnival: alternative restaurants and onboard wedding chapels. Spirit-class ships also offer an impressive 80 percent ratio of outside cabins, as well as lots of nice little touches -- like museum-quality artwork and "designer" martinis.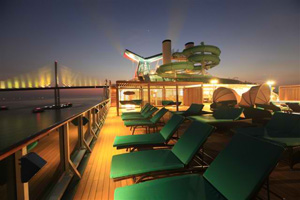 Carnival Legend became the 13th Carnival ship to feature a Serenity area. Designed as an oasis for tranquility and relaxation, Serenity offers colorful, oversized umbrellas, comfortable chaise lounges and chairs, whirlpools, a full bar and breathtaking sea views.
The ship's children's pool area now features colorful new tiles in vibrant sea-animal designs, while the casino has been reconfigured with additional slot machines and poker tables. Other enhancements include new upholstery and chairs in the Lido restaurant, dining room and dance club.
At 88,500 tons Carnival Legend is just skirting the high side of mid-sized -- large enough, but not particularly crowded the Carnival Legend sails to the Caribbean on year-round seven-day sailings from Tampa.
Cruises Leaving Tampa Florida or Cruises Leaving Charleston South Carolina.