Fernandina Beach, Florida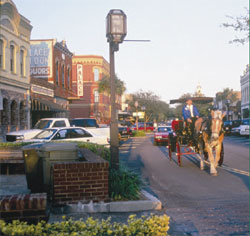 It seems that almost everyone has staked a claim to Fernandina Beach. Discovered by French explorer Jean Ribault in 1562, it is the only place in the United States to have been under eight flags–France, Spain, Britain, the Patriots of Amelia Island, the Green Cross, Mexico, the Confederacy and the United States.
Conjure up a picture of a quaint seaport town and Fernandina Beach easily fits the image. Situated on just seven miles of Amelia Island, the town is nearly surrounded by water: the St. Mary's River to the north, the Amelia River to the west and the beautiful Atlantic Ocean to the east.
Known as the home of the modern shrimping industry, Fernandina's real charm lies in its carefully preserved 50-block downtown district, which is on the National Register of Historic Places. The mix of commercial and residential buildings reflects the prosperity of the late-Victorian era.
" The fort was begun in 1847 but never completed. "
Referred to as a "festering fleshpot" by President James Monroe because of the smugglers, pirates and other unsavory characters who sought refuge on the island, Fernandina Beach became Florida's first resort when a cross-state railroad was built in the mid-19th century.
Another railroad, Henry Flagler's north-south line, brought a temporary end to Fernandina Beach's resort days. Tourism declined as people found it easier to head deeper into Florida. A disaster at the time, the migration south helped preserve the Victorian atmosphere that lures visitors today.
Because buildings were carefully repaired instead of being razed, downtown Fernandina Beach is a delightful mix of shops, restaurants and bed and breakfasts. Centre Street, the main thoroughfare, was designed for leisurely walking and leads to the Intracoastal Waterway and the Fernandina Harbor Marina.
Fernandina Beach offers more than shopping, dining and the beach, including a variety of outdoor activities such as golf, boating, hiking and driving along scenic Highway A1A. History buffs will enjoy Fort Clinch State Park. The fort was begun in 1847 but never completed. It was, however, occupied by federal forces in 1862, which introduced northerners to Florida's wonderful climate and spawned a post-Civil War tourist boom.
Fernandina Beach celebrates its multicultural heritage and shrimping industry each May with the Isle of Eight Flags Shrimp Festival.