Daytona Beach, Florida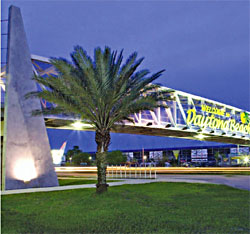 IF SUN, FUN AND THE ROAR of finely-tuned engines is your idea of a good time, Daytona Beach is calling you home. Centrally located on Florida's Atlantic coast, Daytona is all about cars and the beach. In fact, you can drive on the beach or find a parking spot to spend the day near the ocean.
During the late 19th century, wealthy businessmen from the north discovered the hard-packed sand beaches and wonderful climate of this part of Florida. It was ripe for investment, and it wasn't long before Matthias Day–considered the founder of Daytona–built a hotel, the Palmetto House, which opened in 1874. More entrepreneurs followed, and Commodore Charles Burgoyne built a community center and began organizing concerts to entice tourists to Daytona Beach. John D. Rockefeller discovered the area's golf courses and he, too, came to Daytona, where he wintered in his home, The Casements.
" ... The center of Daytona Beach features a wide promenade with an amusement area ... "
Cars and speed have always been important at Daytona Beach. In the early 20th century, the beach racecourse was the scene of 15 speed records by Sir Malcolm Campbell, Barney Oldfield and Sir Henry Segrave. Ormond Beach, just to the north, became known as the "birthplace of speed." Thanks to the obsession with cars and speed, Daytona Beach became the home of the National Association of Stock Car Auto Racing in 1947. Twelve years later, the Daytona International Speedway came into being and still draws huge crowds of racing enthusiasts.
But not all of the 8 million annual visitors come for the racing. Though races on the beach are a thing of the past, sun-seekers find a multitude of activities along the shore, from surfing to fishing or simply seeking nature.
The center of Daytona Beach features a wide promenade with an amusement area, including a sky ride and sightseeing tower and a band shell for outdoor concerts and events. Those who tire of the beach can shop, dine at restaurants both casual and fancy, attend the dog races and take scenic tours on the Halifax River. Quieter destinations include Ormond Beach and Ormond-by-the-Sea, north of Daytona Beach, and Ponce Inlet, a quiet fishing village on the southern end of the peninsula.
Gentlemen, start your engines–and head south to Daytona Beach.