Rockledge, Florida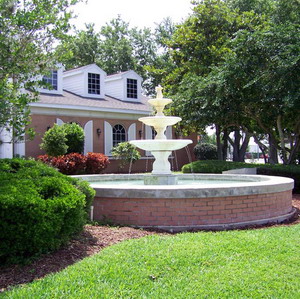 The city of Rockledge, located on central Florida's fast-growing Space Coast, is surrounded by a wide variety of recreational, educational and just plain fun activities.
That hasn't kept the city from creating its own special brand of home-grown entertainment, however. In 2006, Brevard County's first incorporated municipality hosted events including car shows, a "Trash Bash," an Independence Day picnic, a music festival and a holiday lighting ceremony, parade and decorating contest. More of the same was planned for 2007 and well into the future.
And, for those who enjoy a little mystery with their fun, there's Ashley's Restaurant, the alleged home of ghosts who take great pride in playing tricks on employees and guests. According to legend, one of them is Ethel Allen, who was either killed by a train on the nearby tracks or murdered in the bathroom. Another of Ashley's spectral residents reportedly is a young man who met an untimely death on the railroad tracks or on the highway in front of the building.
Regardless of its past, Rockledge is looking to the future. Incorporated in 1887 on the shores of the Indian River Lagoon, its economy once depended on citrus fruit and tourism. Today, however, with the Kennedy Space Center at Cape Canaveral nearby, local businesses focus mainly on the aerospace industry.
" "... local businesses focus mainly on the Aerospace industry. "
The Space Center includes the Astronaut Memorial, dedicated in 1991 to the memory of those who died while participating in the U.S. space program.
At the Merritt Island National Wildlife Refuge, also just a stone's throw from Rockledge, visitors can see a wide range of native birds, reptiles and animals, including alligators, raccoons, bobcats and armadillos, as well as birds who are just passing through on their way north or south.
Port Canaveral, the third largest cruise ship port in the United States, is also home to the largest scallop fishery in the world, as well as boat ramps, parks, beaches and campgrounds. Other nearby attractions include Cocoa Village, which features tree-lined streets, shops, a gazebo, a picnic area and festivals throughout the year; the Indian River Lagoon, which offers boating, water-skiing, fishing and sailing; and Sebastian Inlet State Recreation Area, where fishermen will find snook, redfish, bluefish and Spanish mackerel.